naši proizvodi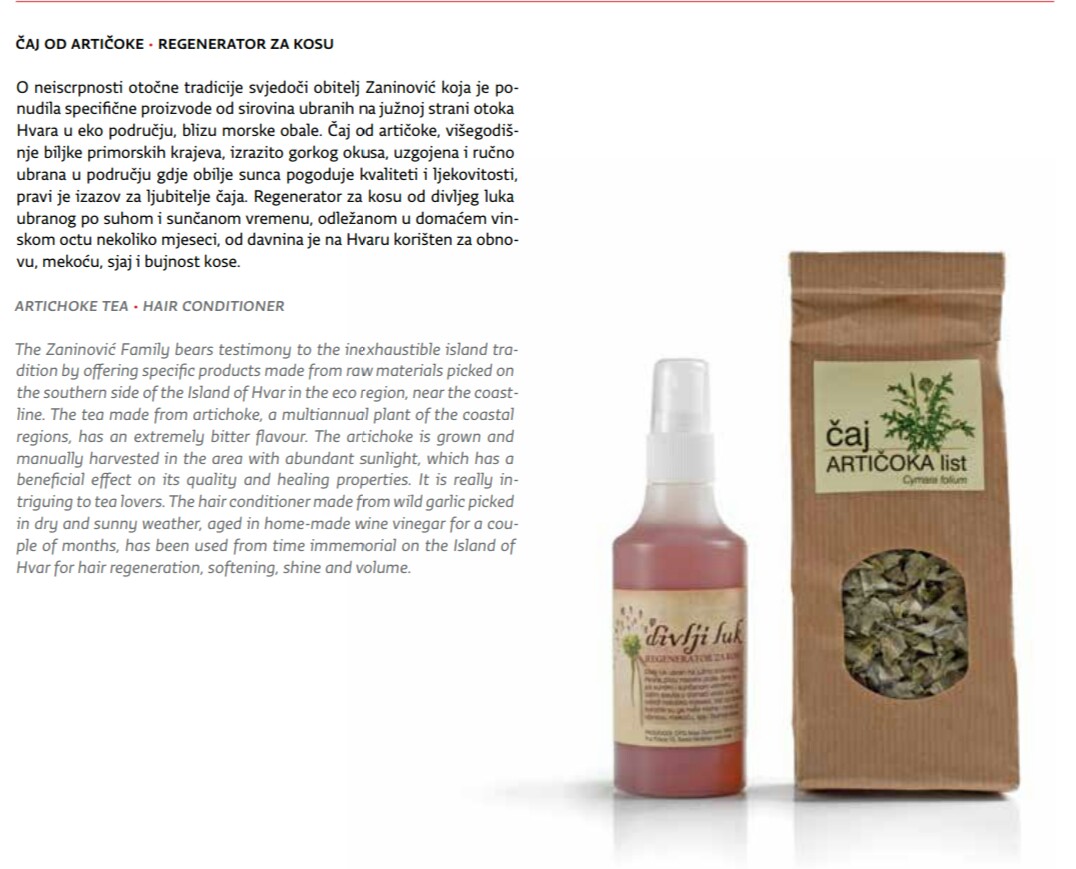 izvor slika :katalog HOP 2013 i 2016
DOMENICO
Vrhunsko vino/ High quality wine
sorte/grapes : Plavac mali

MEDITERANO
Ekstra djevičansko maslinovo ulje
Extra virgin olive oil

BARIKO
Aromatizirano vino
Flavoured wine

Čaj od artičoke
Artichoke tea

Regenerator za kosu
Hair conditioner


eterično ulje lavande
essential lavender oil
---
Lina Zaninović is a true keeper of island tradition. Learning from her elders, she acquired invaluable knowledge and experience in collecting, storing and using the herbs of the island. She dries them, macerates them, or uses them freshly picked. Every plant has its own story.
In constant touch with the nature, Lina understands its powers. Nature has an answer to everything, for it is a fragment of the cosmic strength. Nature's rhythm should become our rhythm in order to keep us balanced. That is what Lina was taught by her elders. She completely devoted herself to nature, hearing its pulse and taking from it herbs which provide primeval strength and harmony.
Lina's peacefulness and mercy come from her relationship with nature.
She knows when each herb flourishes, when it is picked, when it is dried, what its purpose is, how it ought to be used and when it helps the most. She picks and collects all the herbs from the untouched nature of the island Hvar, in its most isolated parts.
Aside from working with the plants, Lina also prepares traditional food and cosmetic products. Her family produces red and white wine, prosecco and "rakija" all coming from grapes grown in higher altitudes right above their home in Jagodna cove. Her husband Šime has a crucial part in this, but she contributes a great deal. That is why she makes an effort to involve her four daughters and grandchildren in all their projects.
Whenever you visit the island Hvar make sure to stop by to Lina's camp "Lili", a rare oasis of crystal clear blue sea, in the shades of Mediterranean pines, with sounds of crickets. Take a look at what Lina is offering in her small shop, traditionally called "butiga", which mesmerizes by the smells of lavender, immortelle and rosemary. There are also many delicious food products to be found.
For some of her products Lina received a special label "Croatian Island Product", which is attributed by the Ministry of Regional Development and EU funds for products of the greatest quality.